Just a little over one year ago, Mpress invested in technology to better meet our customers' needs in digital and large format capabilities.
On the Digital Front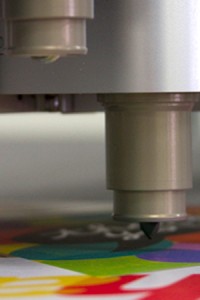 Though we'd always offered a digital option (Xerox) for smaller projects and shorter runs, demand necessitated we add the J75 Xerox color press. The projects we could take on expanded greatly and we are still wowed by the quality and efficiency involved.
The new Xerox color press allows us to print longer runs on a variety of papers with museum quality printing. Printing and binding booklets has been popular, too. Our customers are enjoying great economic alternatives to the Heidelberg output for short run brochures, product sheets, invitations, postcards and business cards.
Going Large
Projects requiring large format printing were on the rise, so we added $500,000 worth of new large
format equipment. Large equipment takes large space and the large format print operation is housed in a customized space at 1702 Broadway, just up the street from our main location at 1715 Baltimore Avenue.
Our large format and digital capabilities have been welcomed and well received, given they are natural extensions of the Heidelberg Offset printing for which we are known.
Now with the year of large format under our belts, we can attribute the quick success to buying quality equipment and hiring experienced people who can get it up and running properly without a long learning curve.
Having worked in the offset printing world, it is thrilling to see the different products we can produce, and on such a variety of substrates. So many options and up to about an 8' x 10' size.
The possibilities to name a few:
Indoor & outdoor signage
Back lit signs
Fine art reproduction
Packaging
Store displays
Convention displays
Living on the Cutting Edge
If you've seen the Zund flatbed cutter in action, you know it's an amazing thing to watch. The intricacy and speed to cut a variety of materials with a software program as opposed to a die makes this process very cost effective. This has been especially beneficial to our offset projects when we need intricate die cut prototypes.
Let's Try That!
Our latest digital and large format equipment encourages us to push the limits on what's possible. Collaborating with customers or off the top of our heads, we have truly enjoyed exploring new, innovative products. We have said, "Hmm, let's try that" on several occasions.
---
Digital Work
---
Large Format Work